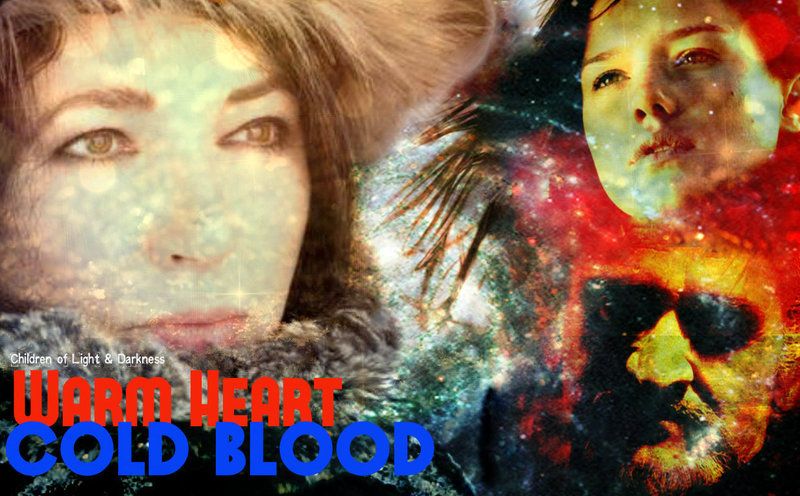 1. Love and Anger
Hayzel emerged from the cabin into the porch, closing the heavy wooden door behind her, and took a long, deep breath of crisp forest air, savouring the cool freshness of the day after the long stale confinement of the night. She turned her face towards the sun, which was peering shyly down at her over the tree tops. It had snowed heavily again during the night, but now the sky was clear and blue. Spring-like, almost. As she stared, the bleating cry of the new-born sounded briefly from within, before softening and quieting completely, probably at its mother's soothing. She smiled and glanced back at the door. Spring had certainly come to this household.
I wonder what my old team mates would make of me now, she reflected wistfully. In my new role of bringing life into the universe, rather than removing it. Lavarre certainly wouldn't have approved.
Just the thought of that name provoked a shiver to run through her, so she shook the clammy fog of nostalgia from her mind and stepped out into the snow and onto the path that led down to the shore. Although the sun was up it was still cold, and a thin breeze snapped and pinched at her face and made the guide line staked along the path to shiver and thrum. She pulled her cloak a little tighter around her and adjusted her fur hat so that settled better around her ears.
Although she was approaching her mid-forties now, Hayzel still moved with the padding grace and purpose of the hunter-stalker she once was; motherhood had neither slowed her down nor affected her figure. Her age showed only when she smiled, and then in weathered lines of care that added to, rather than subtracted from, her expressive beauty. And if there was white now in the long raven-black hair that peeked from beneath the folds of her hat, it was in strands of silver, rather than grey. Her deep brown eyes were still sharp and attentive, taking in her surroundings with instinctiveness diligence. Age hadn't even begun to blunt senses long since honed to a point a stalking tiger would have envied. She lifted her face and her nostrils flared to the homely scent of wood smoke and baking bread. Everyone baked their own bread here; it was a task she relished every morning when she was in her own home, tucked away in the cosy settlement on the other side of the lake.
Not that I'll be seeing it for a few days at least, she reflected. Ah well. It was never quite the same when they weren't all together anyway. He'll be back with the girls by then. Well, he'd better be, anyway.
A bird called somewhere high above. She glanced up, squinting into the thawing haze, trying to spot it. There… a hawk of some kind. She paused and took a moment to watch it wheeling languidly above, before it disappeared over the tree-tops. She found herself smiling again. She'd rediscovered her pleasure for nature not long after they'd settled here, taking her back to the days when her mother used to take her and her brothers into the mountains on weekend expeditions.
Hazel McGrath-Sorensen… from soldier to settler. I wonder if she found the transition as easy as I did? Probably…
She gazed around the terrain again. Yes, there was certainly much of it to enjoy on this world; green forest, blue ocean and snow-peaked mountains. A young world… a flourishing world. Hayzel blessed herself and her family fortunate to able to contribute to that flourishing.
She smiled proudly.
And why not? I earned it. We earned it. After all we did… after all we still do.
Still smiling, she picked her way along the path and down to the shore, emerging through the forest screen to pause before the white expanse of the frozen lake beyond. A light, steamy haze flickered over the fresh snow that covered its surface, and there was a faint, almost imperceptible crackling sound as the ice layer shimmered, tested by the current below and the sunlight above. It would be weeks yet before the ice would properly melt and Anil could take his boat out again. The vessel lay beneath thick oilskins nearby, dragged up onto the beach until the winter passed. It was a good boat, and Anil was a good fisherman; his catch had been the prize of many a table in the settlement, and the good-natured envy of his fellow trawlers. He was a large, placid fellow, with a big black bushy beard that was gradually turning grey, although age hadn't blunted his fertility. Hayzel had just helped his wife Maryam deliver their fourth child into the world. She'd assisted with the arrival of three of them, the eldest having been born off-world, back in Anil's former life when he serviced an engine room full of machines rather than the needs of an expanding family. As such, she was considered as part of that family, and Hayzel was proud of the honour.
She raised her hands and studied them. How many children had she helped into this world, now? Besides the three of her own, of course. Considering she had no proper medical training, beyond rudimentary first aid picked up along the course of her 'adventures'…
"You don't need training," her husband had told her. "You're a natural."
The compliment made her smile, as it always did when she thought of it. And yet…
The last time anyone had called me a natural at anything, had been Lavarre. And then I was a Natural Killer. A Natural Born Killer.
She closed her eyes and shook her head again. What was this? This was the second time she'd thought of her late and unlamented overseer that morning. She doubted she'd thought that much about him at all since they'd settled on this planet. A superstitious person might have considered it an omen. And she had never considered herself superstitious.
I am just tired, she reflected. I think more of the past when I am tired. I've been up all night. I need sleep. I need bed.
Her smile broadened lasciviously.
I need my husband.
A crunching sound interrupted her romantic reverie. It was followed by another, and she felt something tickling against her leg. She looked down, and noticed a clump of snow by her foot. No, just by her foot; all over her foot, and splashed across her leg too.
"What -"
Something whistled wetly through the air, just missing her nose, and splattered with a smack into the side of the boat. Something white. Something made out of snow.
She twigged what it was. She grinned wryly, and then clicked her tongue loudly and reproachfully before calling:
"Your aim is rotten, young lady. You missed my hat by a mile."
"It's this lousy fresh snow," drifted a distant voice from the forest behind her in response. "It's too slushy to make into a decent ball."
"Really." Hayzel didn't turn around but continued to address the lake, her head cocked on one side. "And of course, what your poor, tired, aged mother wants right now is to be pelted with snowballs by her evil daughter."
There came a mischievous, girlish chuckle. "I'm not evil. That's Charity, you're thinking of. And you're not aged."
"Flattery won't get you anywhere, my dear. Anyway, your sister is not evil."
"She stole my cookies."
"She took a cookie, singular. From a batch that I had made for everybody, I might add. What did I tell you about share and share alike?"
"It was one with raisins. She hates raisins. You know that."
"I did not."
"Well then. She only took it to annoy me."
"Are you sure it was Charity? Your father loves raisins."
"Daddy loves me more."
"Then maybe Charity took it to give it to daddy."
"No, she took it because she's a beast."
Hayzel rolled her eyes heavenwards. "Goddess save me from argumentative teenagers. What did I do to deserve you?"
"Am I allowed to answer that?"
"You may, bearing in mind you're not too old to get your bottom smacked."
Another snowball whistled past her face. Hayzel put a tiny edge of paternal command into her voice.
"Quit while you're ahead, Hope."
"Oh, mother. I was aiming to miss."
"Uh huh, in the expectation you'd actually hit me this time, I suppose. You forget, my dear, I was your age once too. I know all the tricks."
"I know. You taught me most of them."
"Ah, I see. It's my fault. Makes sense."
More high notes of girlish mischief, and then footsteps crunching through the snow quickly towards her. Hayzel slowly turned round, her smile broadening at the sight of her daughter.
"Good morning, Hope."
"Good morning, mother." Hope stopped and frowned. "You do look tired. Are you okay?"
"I'm fine. Or will be, after a good breakfast." She raised an eyebrow. "That's a hint, by the way."
Hope pursed her lips. "You know I'm hopeless at breakfast. I always burn the toast."
"That's funny, I always do that too. Taught you well, didn't I?"
"Too well," she grinned.
Hayzel returned the grin and studied her daughter with maternal pride. Only fifteen, Hope Sorensen was already blooming into a very attractive young woman. She – and her sisters – already seemed to possess all the better physical characteristics of their parents, including their mother's raven hair and full-lipped, expressive mouth and their father's hooded come-hither stare. Maybe even a little more of that stare than her sisters. Which could be either a good thing or a bad thing. She showed every sign of being somewhat the deepest of the triplets, which had a tendency to manifest itself in ways that occasionally gave her mother cause for concern, even if not her father.
"She'll be fine," he'd always say. "It's just a phase. I was like that at her age too."
Given his rather unique – even chaotic – heritage, that didn't exactly provide balm for her concerns. But she didn't let it show. Least of all to Hope.
She wore a long, warm cape but her arms were bare and her hair hung loose and wild around her shoulders; the cold never seemed to bother her much. As usual, she had her bow slung over her shoulder, and there was a quiver of arrows at her waist. Her father had made it for her and Hayzel had taught her how to use it, as much for target practice as actual hunting; although she was more than proficient enough to bag something for the pot, killing things didn't seem to be her thing.
Thank the Goddess…
Hayzel did note that Hope's smile seemed a little strained, and there were splodges of high colour in her cheeks that were unlikely to have been provoked by neither the cold nor her snowball-throwing. Hayzel guessed immediately what it was.
"Out having fun, are we?" she asked lightly.
Hope pulled a face and looked away across the lake, confirming Hayzel's suspicions. "When are we leaving?" she asked bluntly.
"Not for a while. Maybe even not today. I want to make sure Maryam is okay – she's running a little temperature."
She prodded at the snow with the toe of her boot. "Can't Mohana and Meena look after her?"
"Mohana is only nine, and Meena is only six." Hayzel noted she didn't mention the male members of the household, only the two younger daughters. "They're bright enough, but better safe than sorry. I don't want to have leave, only for her to come down with something and have to come back again."
"You could leave some medicine."
"For what? I don't know what it is, yet. Assuming it is anything at all. Look, I'm not stopping you from going back on your own, you know. You're old enough and ugly enough to look after yourself."
"I don't like being at home on my own," she pouted. "Besides, with the network down, you might need me to go and fetch Doctor Vener, if Maryam really is sick."
"I can send Tarun."
Her prodding at the snow became a rather angry kicking. "I know where I'd send him," she muttered, almost but not quite low enough for her mother to hear. Hayzel did, but she let it go – for now.
"You knew we might be stuck here for a few days," she chided gently. "Perhaps you should have gone with your father and your sisters to Karn after all."
She snorted in a most un-young ladylike manner and her kicking increased in vigour.
"Don't you like to visit your Aunt Antonia?"
"I like Aunt Antonia fine, but the Sisterhood gives me the creeps."
There Hayzel was in total agreement, but she would never have said so. "They're not so bad, really. Antonia wouldn't stay with them otherwise."
"Antonia should have stayed and lived with us."
"She wanted to stay and help the Sisterhood. It was her choice."
"You should have persuaded her then," she insisted testily.
Hayzel gave her a flinty look. There was a flinty edge to her reply, too. Hope had this inclination towards wilfulness sometimes. Something else she'd inherited more from her father.
"Oh, should I? You'll fall down that hole you're digging in a moment."
Hope snorted bullishly again, but stopped her kicking and hung her head sulkily, as was her wont when being ticked off. Hayzel sighed and folded her arms.
"What's the real matter? I noticed Tarun wasn't with you."
"He's a beast as well," she snapped.
Tarun was Anil's oldest child and – so far - only son. He was only about a year older than Hope, but he was also seven foot tall (and still growing), dark and muscular – a veritable teenage Hercules, and therefore quite a draw to any healthy red-blooded young woman. Hope had developed something of a crush on him, and was never slow to pass up an opportunity to go visiting – even at the expense of going off with her father and sisters.
Alas, while Hope was – or could be, when she chose to be, anyway – mature beyond her years, Tarun was sixteen going on ten. And he had a ten year olds sense of empathy – and humour. Girls hadn't even begun to appear on his radar. Anil and Maryam were lovely people, but a little deficient in the area of children's development. Particularly where the facts of life were concerned.
"Probably just as well," her husband had laughed one evening while washing up. "If she's anything like you, she'd eat him alive. Um, please don't hit me with that frying pan, darling."
"Tarun thinks you're playing," she explained carefully. "He's not… well, he's just not quite sussed things yet."
She pulled a face. "He's an idiot."
"Now don't be mean. He's really not that."
"He's the mean one." She craned her neck and pointed to a livid red blotch on her skin. "He got me right there, with a snowball."
"I'm sure he didn't mean it."
"He did. He packed the snow around a tree-nut. I saw him do it. A big one, too. And then he laughed when it hit me. Laughed." She bared her teeth and her fingers tightened around the bow. "I could have killed him."
Hayzel looked a little perturbed. Hope did have a temper on her, too, sometimes; more so than either of her sisters. Something else she'd inherited more of from her father.
"You… didn't hurt him back, did you?"
"No. I wanted to, but…" She closed her eyes for a moment, and took a deep breath, held it a moment, and then let it go before replying. "I counted to ten. Like you told me."
Hayzel smiled and put an arm around her daughter's shoulders. "That's my girl. As satisfying as it might have been at the time to beat the heck out of him, in the long run you'd have suffered more than him."
Hope went a little wide-eyed. "I thought you were kidding about smacking my backside."
"Oh, I don't mean that. But there would have been consequences all the same." She smiled teasingly. "Like packing you off to the Sisterhood, maybe. They'd certainly teach you a thing or two about self-control. Might take a couple of hundred years, though."
Hope shuddered with remarkable vehemence. "Don't even joke about it!"
"Well, I'm pleased with you anyway. Look, I'm sure he'll say sorry. He's just a little slow on the uptake, that's all. Once he knows he really hurt you, he'll treat you much nicer."
"He'd better," she growled. "The big twerp."
Hayzel glanced around the tree line. "Where is he, then?"
She shrugged, indifferent to his fate. "Ran off into the forest." She smiled wickedly. "I'm hoping a bear will get him."
"Don't be horrid. Anyway, the bears never come this close to the lake until the thaw, when the fish start feeding closer to the surface. There's still plenty of game and forage for them in the forest."
"Yeah, like Tarun," she snickered.
Hayzel shook her head. She got her warped sense of humour from her father, too. "Well, he'd better not have gone too far. His father will need him. There'll be loads to do now Maryam is laid up."
She sniggered again. "Perhaps he'll give him a beating for being a bad boy."
Hayzel wagged a finger at her. "Now, now. He's not that bad a boy. You, on the other hand, have the makings of turning into a very bad girl."
"I blame him entirely." She put on her wheedling voice. Hayzel had to admit she was getting good at it. Maybe too good. "You know what boys are like, mother."
"Hmmm, I know what girls are like, too," she replied balefully. "Particularly pretty ones."
"Oh, mother."
"Anyway, what were you two doing sneaking off like that? We might very well have needed you."
Hope blushed slightly, catching the implication in her mother's question. "Tarun thought he heard something in the night."
"Other than his mother in labour? He's got better hearing than I gave him credit."
"It was a lot earlier, while he was out fetching more wood for the fire. He said he heard thunder."
"It wasn't that kind of storm last night."
"That's what I said. But then he also said he thought he saw something coming down out of the sky."
"Yeah. Snow."
"Oh, mother. No, he said he saw something land. Back in the forest."
"Land? Here?" She shook her head. "Impossible."
"Daddy says nothing is impossible."
"Daddy says a lot of things, not all of which you should take notice of."
Hope affected an innocent look. "Why?"
"Hope, I love your father dearly, but he is and always will be an incorrigible rogue. As you very well know."
"Do I?"
She set her mouth primly. "Yes you do. I've heard about some of the tales your father has told you and your sisters. I don't entirely approve."
"Particularly about the tales about you?" Hope asked cheekily.
"Most particularly the tales about me!"
"I thought it was supposed to be a good thing to learn from other's mistakes. Particularly your parents."
Hayzel made to swat at her daughter's backside. "You'll be the one making the mistake if you carry on this conversation, young lady. Unless you really would like to be packed off to the Sisterhood."
"Okay, okay!" She backed off a step or two and raised her hands placating, and swiftly changed the subject. "Something could land here, though, couldn't it?"
"Yeah, but by invitation only. And that's the way your father and I would like to keep it." She pulled back her sleeve and studied a small square display mounted on a chunky black bracelet fastened around her wrist. It was linked directly to the comprehensive array of extremely sophisticated security monitors they'd set up around the planet, on the ground and in orbit, which was capable of tracking, identifying and stopping everything and anything from a temporal battle-fleet to a feather falling from the sky. It had already served them very well.
And to think we have Lavarre to thank for it. Nice to know the old spider was good for something at the end.
Hope was already shaking her head. She lifted an arm and tapped meaningfully at an identical bracelet strapped to her wrist.
"I already checked my scanner. Nothing's registered entering or leaving, spatial or temporal, since dad left the night before."
"Hmmm." Hayzel made a delicate adjustment and studied the display carefully. As her daughter had reported, there was nothing out of the ordinary showing, beyond the odd token chunk of soon-to-be incinerated innocent space debris.
Or something made to look like innocent space debris.
She stroked a finger across the display, adjusting the parameters. "It might be cloaked," she murmured, half to herself.
"Must be a pretty good cloak to get past our tech."
"Yes, it must." She made some more adjustments. Still nothing showed on the screen. She gnawed at her lower lip. "Nothing. Or at least, nothing peculiar."
Hope caught the apprehension in the gesture and in her voice. "You know, Tarun might just have seen nothing," she replied calmly. "Or just kidding about to get me outside to throw lumps at me."
"Maybe," Hayzel nodded slowly. "Still…"
"Better safe than sorry?" Hope piped. She knew the drill. They all did when they were there.
"Indeed."
Hope wrinkled her nose. "Isn't it a bit early to be playing guard dog? I mean, we haven't even had breakfast yet."
"We do have responsibilities to this community, Hope. And besides, I never play."
"That's not what daddy says," Hope smirked.
Hayzel gave her a baleful look. "I'm really going to have to have a talk with your father, aren't I?" She tugged down her sleeve and started briskly back along the path, gesturing for her daughter to follow. "Come on, let's go and find out. How far away did he say he saw it come down?"
"A few klicks, southwest," replied Hope, trotting to catch her up.
"Oh, the glade near the punch-bowl pool? Yes, that would make sense. It's just about the only place for miles around here you could land safely, especially in the blizzard we had last night."
Hope still looked and sounded dubious. "Yeah. But at that distance, if it was a ship, baby or no baby, we'd have heard it, wouldn't we?"
"Mmm. Assuming it's a regular sort of ship."
Hope was sharp enough to know exactly what – or rather, who – she was alluding to. "The Time Lords haven't bothered us in months. Why now?"
"Perhaps because your father is away."
"The only way they'd know that is if the Sisterhood told them. And as much as even I don't like 'em, I know they hate the Time Lords even more. I can't conceive of them doing that."
"No. Me neither."
"Who else could it be then, with that kind of stealth tech?"
"Huh. Would you like a list?"
"Yeah. You and daddy did keep some rum company, didn't you?"
"That's putting it mildly."
Hope fingered her bow. "Maybe we ought to take precautions, then. Does Anil keep any weapons?"
"He's a fisherman, not a soldier. Besides, let's find out first if we need to take any precautions in the first place. They might be friendly."
"Friendly doesn't disguise its landing signature as space trash."  
"Then maybe they're scared. Maybe they might be in trouble."
"Or they might be trouble. Something else you used to attract."
Hayzel gave her another withering look. "Thank you, dear. Remind me of my sordid past, why don't you?"
"Sorry. I'm just being…"
"Cautious?" Hayzel grinned. "No harm in that. Like you say, better safe than sorry. If it's nothing, it's nothing. We'll just check it out before we start sounding our war-drums."
"Fat chance with the network being down."
Hayzel lifted her wrist and grinned again. "The settlement network maybe, but not ours."
"I don't know why we don't extend it to everyone."
"Because the system wasn't designed for that kind of coverage. Besides, productivity would drop right off if this community re-discovered the joys of mobile phones and internet access. You've seen 21st century Earth. You want Primavera to be a planet of Dilberts?"
"Would that make dad Dogbert or the Pointy-Haired Boss?"
"More like Wally." Sternly she pointed towards the cabin. "Look, just pop in and tell Anil we're going for a little stroll. Don't tell him why, the poor man has enough on his plate as it is. Oh, and if they're awake, you might ask Mohana and Meena to start on making breakfast, too – that should keep them from wandering off."
"Okay." She started to unsling her bow. "Do you want my bow? I can borrow Tarun's while I'm in there."
Hayzel thought for a second, then shook her head. "No – I think we'll just check it out first before we start tooling up." She gave Hope a significant look. "Understand?"
With a minute sigh Hope re-slung her weapon. "I understand."
"Good girl. Off you go."
Hope started off, then paused and turned around. "Say, if turns out Tarun is just mucking about, will you smack his bottom?"
Despite herself, Hayzel grinned at the thought. "I might just."
Hope grinned too. She obviously had a similar thought. "Can I watch?"
"I'm starting to worry about you, Hope."
"Different strokes for different folks, mother."
"Did your father tell you that as well?"
"He did."
"Then I shall have words with him when he gets back."
Hope giggled and tripped merrily along back to the cabin. Hayzel turned away with a sigh and shook her head.
Goddess forbid she turns out like Chlorys…
---
The trees of this forest were mainly evergreens, large and lushly-leafed, providing a dense canopy that meant the forest remained mostly as dark by day as it did by night, patchily illuminated only by shafts of watery winter sunlight that penetrated the snow-laden boughs. As one used to the cover of twilight and shadow, Hayzel didn't mind that all; or at least, she usually didn't. This morning, she wasn't so sure. The encompassing shadows suddenly seemed a little darker and deeper and a lot less empty, and the patches of sunlight seemed far more fewer and far between than ever before and served only to accentuate the gloom. The welcoming smell of baking and wood-smoke faded as they moved deeper into the forest, replaced by the crisper pine-y tang of wet timber and foliage.
And… something else. An odour, barely even that, of something more animal; meaty, dank, slightly corrupt, like the whiff of a carnivore enclosure at a zoo. Brutish, yes, that was the way to describe it. Yet there was no sign in the vicinity of any such animal that might even have come close to that description. She wasn't sure she'd have liked to have met it if it had been.
"I said, don't you like to visit Aunt Antonia?"
So wrapped up in her senses as she was, Hayzel suddenly realised her daughter had said something to her, and had to repeat it. She blinked and shook herself. Tiredness, that's probably all it is. Too long cooped up indoors. I used to get that way when I was barracked with Lavarre…
She shook herself again. There it is again. That bloody name. What is up with me?
"No, I like to see Antonia as often as I can."
"Why didn't you go off with dad, then?"
"Because Maryam was due, that's why."
"Doctor Vener could have taken care of her."
"Doctor Vener is doing her rounds of the coastal settlements. You know that."
"We need another doctor, don't we?"
"Would be nice. But we can't exactly advertise, can we?"
"No." A pause. "Other people could have helped. Other people have."
"What do you mean?"
"I mean… well… you do seem to like staying here."
"Of course I do. It's our home."
"No, I mean…" she hesitated for a moment, "I mean… don't you get bored?"
Hayzel frowned slightly. "Get bored of what, dear?"
"This."
"Walking through a forest with my daughter?"
"No!"
"Delivering babies?"
"Oh mother. I mean, staying here. Looking after things."
"What's wrong with staying here and looking after things?"
"Nothing, I guess. It's just…"
"What?"
"Well, isn't it… kinda dull, compared with what you used to do?"
Hayzel surprised her daughter by laughing. "Compared to what I used do, yes I suppose you could call it dull. Compared to what I used to be, well, that's entirely different."
"How so?"
"I was thinking about that earlier, funnily enough. How I've made the transition from taking life to bringing it into the world, and what the reaction of some of my old comrades would have been."
"How do you think they would have reacted?"
"The best reaction I could have expected from most of them would have disbelieving laughter. A few, the good few, who really knew me, would have related. Dy, Chayni…" she smiled wistfully, "maybe even Lucy."
"Are you happy with that?"
"Yes. Yes, I think I am."
"But it's your choice, right?"
"What do you mean?"
Hope looked away into the forest, embarrassed suddenly. "I mean, like, dad hasn't told you to stay behind."
Hayzel laughed again. "Hardly! Your father knows better than to make me do anything I don't want to… unless he has a very good reason."
"So it is your choice to stay behind?"
"Absolutely. I like it here. I like the people. And I like looking after them. I have done it before, sort of, only in… not so happy circumstances."
"Your mum and dad's colony?"
"That's right. Except there were fewer of us, and we had to live deep in the mountains to avoid... well, you know the story. But we looked after them, my mother and I, until she... died, and then I… I took over from her. I wasn't a lot older than you, really."
"And you enjoy it?"
"I can enjoy it here more than my old home, certainly, even though we still have to be careful."
There was a rather pregnant pause before Hope spoke again.
"So… would I have that choice, too?"
"Eh? What choice?"
"About, maybe… staying here."
Hayzel came to a stop and regarded her daughter thoughtfully. "What's this about, Hope?"
Hope stopped too and stared at her feet. "Dad was talking about packing us off to school somewhere again."
"Ah yes, he did mention he'd talked to you all about it again. You… don't like the idea, do you?"
"No, not really."
"Any particular reason?"
"Yeah. Sort of." She raised her face suddenly, eyes flashing in the green gloom. "And no, it's not because of Tarun."
Hayzel smiled wryly. "Did I say it was?"
"I know you know I like him, but… not that way. You know."
"Oh, I most certainly do. And I know you better than to believe you'll ever run around anyone like a moon-struck calf. Especially Tarun." She paused significantly. "Though he makes quite a good excuse, doesn't he?"
Hope affected an innocent look. "I don't know what you mean."
She folded her arms. "Come on, Hope. Don't think I haven't noticed that you're never as keen to go away with your father as your sisters are. As soon as Anil put the call in, you were out the door before either your father or I could say yea or nay."
"So?"
"So, what's really the matter? Something spooked you on one of those trips, maybe?"
Hope drew back, colour rising in her cheeks. "I'm not afraid of travelling away, if that's what you mean!"
"No, I didn't mean it like that at all. Though I can understand if you were."
Hope set her jaw angrily. "But I'm not!"
Hayzel lifted her hands. "All right! I believe you. I'm just saying I can understand why you're not keen. I know only too well myself what it's like out there."
"Then why do we have to go away?"
Hayzel sighed. She never liked having this conversation, especially without her husband's support, because she knew she wasn't as convincing as explaining it as he was.
Because I'm not convinced about it myself… am I?
"You know why, Hope. Your father and I have explained it several times."
"Then explain it again!"
Hayzel closed her eyes for a moment, composing a suitable reply. "Because… you need to know what it's like out there."
"Why?"
"So that you'll be safe, and ready for whenever… something bad happens."
"Like what?"
"Hope, you know what kind of life your father and I led before we came to Primavera. We want to make sure… you don't end up living that kind of life yourself."
"You did pretty well."
Hayzel snorted. "More by luck than skill or judgement. We arrived here via a long, hard road, and a bloody one at that. Listen, there are lots of other stories you father and I won't  tell you… at least, not until you're older and much better prepared to hear them. That's what your dad and I are trying to do – prepare you, teach you to avoid the same traps and pitfalls we had to suffer when we were growing up."
"What does that have to do with visiting people like the Sisterhood? They're enough to put me off for a start!"
You should visit Gallifrey these days, kid, you ain't seen nothing yet, Hayzel almost said, but stopped herself. Not the time. "Look, I know the Sisterhood gives you the creeps – they give everybody the creeps, even your father – but they have the skills and the knowledge that have enabled them to survive for millennia. Unique skills and knowledge, which you're among a privileged few to share."
"You and dad have unique skills and knowledge. Why can't I just learn from you, like you did from your mother?"
"That's very flattering, love, but there's lots of stuff even your dad and I can't teach you. My mother would have wished for a better education, too."
"But you did all right!"
"Hope, I spent my teenage years living in a cave, hiding from Cybermen. That's not the kind of education I'd wish on anyone, least of all my own daughters."
Hope shook her head. "I don't mean just that. I mean… I just think I learn more staying here. I mean… being with you. Like this. Like now."
"You want to be a midwife?" Hayzel asked, only half-joking.
"No! I mean, yes. I mean… I dunno! I I just…" She sighed, clearly conflicted by how to put her feelings into words. "I just prefer it here. I mean, I like being with dad, going off visiting places with Faith and Charity, but when I'm here… like this, when it's just us two…  it's different, somehow. It just feels kind of… kind of right." She twisted awkwardly, face burning. "Oh, I dunno. I'm probably not making sense. Being stupid."
Hayzel smiled maternally and put an arm around her shoulders. "You're not being stupid, Hope. I think I know exactly what you mean."
Hope peered shyly up at her mother. "You do?"
"Yeah, I think I do." She gestured around her. "A fresh world, a fledgling colony… new friends, opportunities, challenges… a place to plant roots. Raise a family. Help others raise theirs. One hell of adventure. One hell of a responsibility." She smiled again. "That responsibility is my choice, as much as your father's. I'm finally where I want to be, Hope. This is what I've always wanted. A second chance. A new life. A new home. Not just for me and your dad, but you, and your children, and your children's children, and Anil's children, and all the other children who are going to come into this world. My mum and dad wanted the same for me and my brothers when I was your age. They… they didn't get the chance to achieve that. I swore that I was never going to allow history to repeat itself. Not to me. Not to my children. I'm going to see to that. We're going to see to that." She thumped lightly at her own chest. "My choice," she repeated softly.
Hope was silent for a moment, and then she too smiled and thumped lightly at her own chest in return.
"Mine too. I'd be… I'd be really proud to help you make all that happen, mother. That's all I want, too."
"You already make me proud, Hope. You always will. And whatever you choose to do, I will always be there for you. Always."
Mother and daughter stared at each other for an instant, and then they hugged each other tightly for a long moment.
"I was… I was afraid you wouldn't understand," said Hope eventually, her words muffled from the depths of her mother's shoulders.
"Oh, I understand perfectly. Believe me."
Hope lifted her head and peered at her shyly. "But will dad?"
Hayzel grinned. "Ha. Leave that to me. I've developed quite a knack at convincing your dad about-"
A twig snapped like a pistol shot somewhere in the depths of the forest, and then in an instant the pair of them were back to back, staring intently into the gloom. Albeit through eyes that were more than slightly misted.
"Animal, vegetable or mineral?" Hayzel murmured.
"Animal. In Tarun's case, vegetable."
Hayzel clicked her tongue softly. "Can't see anything."
"Me neither."
"It's very quiet."
"Too damn quiet. Something is wrong, isn't it?"
"Oh yeah. Very wrong." Even after snowfall like this, the forest was always full of sound, birds and animals going about their existence. Not now. The silence was almost deafening. Hayzel felt her senses prickling with a sharpness and clarity that she hadn't felt in years. She glanced at her daughter and their eyes met; understanding passed.
"You feel it?"
"Yeah," Hope nodded grimly. "This isn't right... is it?"
"No, it's not."
"And that smell…" she wrinkled her nose. "Did you catch it?"
"Yeah. Nasty."
"Might be a bear."
"Might be."
Hope grinned nastily. "Might be Tarun."
"He needs a good scrubbing if it is."
She swept a measuring gaze around the trees and bushes surrounding them. It was encased in a stygian gloom which even her sharp eyes couldn't penetrate. Perfect cover for an ambush. And the snow blanketing the forest floor muffled the sound of footsteps, crackling leaves and snapping twigs. Not good. Not good at all.
"Let's get off the trail," she murmured. "Too exposed here."
They backed off a little deeper into the undergrowth and hunkered down behind the cover of a large tree, watching and listening. But nothing stirred. Even the breeze seemed to be holding its breath.
"Mother Nature provides the best alarm system," Hope murmured, eyes fixed on the spot the noise came from. "But only on terms favourable to hunter and hunted."
Hayzel glanced at her. "Another of your father's sayings?"
"Yes. Something he said he learnt from his mother." She cocked her head on one side. "Did you ever meet her?"
"No. I wish I had. She sounded like she was quite something."
"Just like dad."
She grinned. "Yeah. Just like your dad. And just like you'll be, one day."
Hope grinned back, blushing slightly. "I dunno, I think I'd rather be a librarian or something."
"Librarians don't usually carry bows and arrows."
"How else do they maintain silence then?"
"Tact and diplomacy."
Hope made a phlegmy sound of disapproval. "Oh, that." She lifted her bow. "I think I'll stick to this."
"Mmm. Why not." Hayzel glanced around the trees again and shivered suddenly. Hope noticed and tensed slightly.
"What is it?" she murmured from the side of her mouth.
"I don't know. Just a feeling that…"
"… We're being watched?" Hope concluded softly. "Yeah. Mind you, dad also said that there's always something watching you in a forest. You just have to hope its prey rather than predator."
"Yes, he is a bundle of laughs your father, isn't he?"
"It kept him alive, though, didn't it?"
Hayzel gave her daughter a measuring look. Half in and half out of shadow, her expression spoke of a worldly experience that went far deeper than the smooth curves of tanned puppy-fat suggested.
You could see in her eyes whose daughter she was… whose grand-child, too.
Hayzel suppressed a shiver that had little to do with the cold and  raised her arm and slipped her sleeve back, studying her monitor again, as much to give her mind something to be occupied with. The readings confirmed the worst. She clicked her tongue irritably.
"Multiple lifeforms close by, but they could just be birds and squirrels."
"If someone can disguise their ship to look like space trash, they could probably also disguise their life-signs to look like birds and squirrels."
"Are you quoting your father again?"
"Um, you, actually."
"Ah. My little grey cells are obviously greyer than I thought."
"You have been up all night."
"Thank you dear." Her eyes widened in alarm as she suddenly noted something else on the readout.
"Uh oh."
"What?"
"Comm signal is down."
"Our comm signal?"
"Yeah."
"Down how?"
"Jamming. For real."
"Shit."
"Language."
"Sorry. So it's us and the network, now."
"Yeah."
"No back up, then."
"Nope." She straightened up, wincing only slightly at the rusty way her knees protested. "Just as well."
Hope stood up too, but with all the enviable fluidity of youth. "Huh?"
"They're settlers, Hope, not warriors."
"They're all capable of defending themselves."
"Against bears and snakes and assorted critters, maybe. Besides, that's our job, remember?"
"What were you saying about community, mother? We look after each other, right?"
"Hope, I will not put these people's lives in danger. Listen, the chances are that whatever has landed here is probably here because of us. You really want to see Anil and Tarun up against some CIA commando unit or a Ferutu snatch-squad? Bows and arrows against the lightning? Forget it."
"What do we do, then?"
Hayzel took a long, steadying breath, squaring her shoulders. "We'll handle it."
Hope blinked at her in surprise. "Just the two of us?"
"Why not?" She smiled. "Weren't you listening to those stories your dad told about me?"
"Yeah, but like you said, you know what dad is like for tall-tales…"
"Tall-tales nothing!" She affected a steely expression. "I was one of the Cool Kids of Death, remember?" she began grandly. "The go-to girl for the most notorious Time Lord renegade who ever stalked the vortex, and bosom-buddy  with the nymphomaniac sociopath who turned out to be pulling his strings. I almost single handedly ran a guerrilla campaign against a Cyberman colony, when I was barely any older than you were. I've fought Daleks, Sontarans, Veltrochni, Hiirzwaani, Judoon and Uncle Tom Cobbley and all, and on their terms more often than mine. I think I can handle a bad smell and a case of the heebie-jeebies." She leaned over and kissed her daughter affectionately on the cheek. "Especially when I have my favourite daughter by my side."
Hope grinned and kissed her back with equal affection. "You're one hell of a motivator, mum."
"Wouldn't be much of a mum if I wasn't."
Something rustled in the bushes and they instinctively drew closer together.
"Tell you what, though," Hope murmured from the side of her mouth.
"What?"
"I am scared. A bit."
"Only a bit?"
"Big bit."
"Well then, I'll let you into a little secret – me too." She winked. "We'll cope."
"Never doubted it."
"Spoken like a true Soren-"
Bushes crashed to their left. Hope pivoted smoothly and aimed, bow string taut, eyes locked on target. Hayzel dropped into a fighting crouch, instinctively lifting her right arm to sight along the wrist-mounted needle-gun she hadn't worn in years. Oh how I wish I was wearing it now…
Then they saw what – or rather who – it was, and relaxed.
Tarun emerged from the bushes, goggling at the pair, dark face flushed and sweaty.
"Hey! What's going on?" he called, bewildered and more than a little alarmed at finding an arrow aimed at his head.
"You tell us, you big dummy," Hope snarled, lowering her bow - slightly. "What are you doing, crashing around like that?"
"I slipped on some snow. What are you doing?"
"Collecting postage stamps. What do you think we're doing?"
Hayzel rested a warning hand on her shoulder. "Hope." She eased past her daughter and walked up to the boy, studying him closely in the dim light. He breathing hard, like he'd been running. Or being chased. Her eyes flicked past him into the gloom beyond, but she couldn't see anything.
Doesn't mean there isn't anything there, though.
"Tarun, where have you been? We were looking for you."
"I went off looking for the ship."
"What ship?"
"The one that landed earlier."
"Are you sure it was a ship?"
He shrugged. "What else could it have been?"
"A bird," snapped Hope, coming up to stand beside her mother and giving Tarun a scathing look. "Like the one operating the controls in your head."
Hayzel gave her daughter a warning nudge in the ribs. "Tarun, you're not just mucking about, are you?"
"No ma'am! Honest! I swear I saw a ship come down!"
"All right. Have you seen anyone else since you've been in the forest?"
"I've not seen anyone, but…" He glanced around the forest and a ripple of fright seemed to shimmer through him as he did so. "… But I think there is someone else in here. I mean, I know there's someone else here. Someone…" he swallowed audibly, "… bad."
Mother and daughter exchanged a knowing look.
"But you haven't seen or heard anyone else?" Hayzel asked.
"No. Not kinda. I mean… sorta out of the corner of my eye I see someone moving, following me, but when I look… they aren't there. And sometimes I thought I heard someone, but whenever I stopped moving, and breathing, they'd stop moving and breathing too. And every time…" he swallowed loudly again, "… a little closer to me." He tried to smile but the expression only made him look more frightened. "I thought it was Hope, trying to get her own back, but then I also started to notice this strange stink… you smell it?"
"Yeah, we've smelled it," Hope confirmed. "We thought it was you."
"It's not me!" he insisted hotly.
"All right, Tarun, we know it's not you. Have you ever smelled it before?"
He shook his head. He was trembling, and not from the cold. "No. It's bad. It's something very bad. That's all I think." He shook his head again. "I just want to go home now. Can I? Please?"
Hayzel placed her hands on his shoulders and looked him square in the eye. "Okay Tarun, now listen to me closely: I do want you to go back home, as quickly as you can; and when you get there, make sure all the doors and windows are shut up tight. Once you've done that, I want to you switch on your perimeter screen. You know how that works, don't you? And don't switch it off or open any windows or doors again unless either me or Hope tell you, okay?"
He nodded eagerly, but there was a hint of uncertainty in his voice. "Um… okay. What should I tell my father?"
"Just tell him you think there's a bear pack in the forest, and that me and Hope have gone to scare them off. Okay? Don't say anything else. Just that. Now, after you've done that, I want you to see if you can contact the town on your father's communicator. You may not be able to at first, but keep trying. Use the power booster like I showed you. And when you get through, ask to speak to Lauren." She paused to let this sink in.  "And when Lauren answers, just say this one word. – Lavarre. Got that? Lavarre. It's a funny word, but you need to remember it. Say it back to me."
"Um… Lavarre."
"Lavarre, that's right. Try to remember it. Okay? Have you got that?"
"Yes… I think so."
Hope made an exasperated sound. "Would you like us to write it all down for you?" she asked scathingly.
Hayzel gave her a filthy look. "Hope. Okay, Tarun, say it back to me again."
"Lavarre."
"And you're to tell this to…"
"Lauren. I'm to ask to speak to Lauren. When I get home, and after I've switched on the screen and locked all the doors."
"And if your dad asks…"
"And if dad asks, you're chasing bears." He grinned at Hope as if to say… see? I do remember.
She wrinkled her nose and turned away, muttering under her breath something about "stupid boys".
"Good lad." Hayzel smiled encouragingly and patted him on the shoulder. "Now off you go. And don't forget to keep everyone indoors – I'm counting on you, Tarun."
"Okay!" He started off, paused, and looked back, as if he'd suddenly remembered something. "Um… don't you want my help?"
"If we need anyone to throw tree-nuts at people, we'll let you know," replied Hope acidly.
Hayzel gave her another measure of that filthy look. "Just look after your family, Tarun. We'll manage, but it's good of you to offer, thanks."
"Okay." He glanced warily at Hope, and then turned and started to lope off through the trees.
"Tarun!" Hope called suddenly.
He paused and looked back warily again. Hope bounded nimbly forward and planted a swift but lingering kiss on his cheek.
"For luck," she grinned.
He blushed to his roots, grinned back, and then turned and disappeared through the trees, rubbing at his cheek.
"For luck," Hayzel echoed wryly. "Sure."
"He looked like he needed a distraction, so it was either that or flatten him, and I figured he couldn't give Aunt Lauren your message so well with a fat lip."
"After that, I'd be surprised if he remembered anything else."
"He's not that dim."
"Possibly not, but he is easily distracted. Particularly when you're doing the distracting."
It was Hope's turn to blush this time. "Oh mother. Anyway, I thought you said we didn't need help?"
"I said I didn't want the settlers to get involved. Your Aunt Lauren is entirely different."
Hope raised her eyebrows. "And how."
"But in a nice way, Hope. She will know what to do."
"I thought she'd gone with Doctor Vener to the coast."
"She has, but she'll drop everything to come back when she hears that word."
"What does that word mean? I've heard you and dad mention it before…"
Hayzel gave her a look that caused a shiver to ripple down Hope's spine.
"Trouble, Hope. Of the very worst kind." She nodded into the forest. "Let's go."
---
They advanced slowly through the trees, Hayzel slightly in front, Hope covering, measuring every step, staying clear of the shafts of sun light, pausing at every sound, every creaking branch, and every rustling leaf. The feeling of danger was almost claustrophobic.
And someone – or something – was definitely watching them. Whoever – or whatever – it was, was very good at keeping hidden. She was half-tempted to flush them out… but she wanted be certain of gaining an edge. Lull them into a false sense of security, and then… pow.
But 'pow' with what?
It wasn't only her senses that had begun to tingle. Hayzel's fingers had begun to itch slightly, and she found she was unconsciously flexing and un-flexing them. She knew exactly why they were itching too.
"I never thought I'd hear myself say this again, but I wish I had a gun…"
"Maybe you should have taken Anil's bow when you had the chance," Hope remarked carelessly.
"It's easy to be wise after the event, Hope," she snapped testily. "It's also wise not to remind your elders and betters of their lapses, too."
"Um. Sorry. Aren't you carrying anything at all?"
"I came out here to deliver a baby, not embark on a combat mission." She stopped and took a steadying breath. Biting her daughter's head off wasn't going to help. "No, I didn't bring anything except my medical kit and my monitor. My bad."
Hope reached beneath her cloak and drew something free that glinted coldly in the thin light. "Well, look… do you want to borrow my knife? Better than nothing."
"Thanks." She took the proffered weapon and studied it carefully. At first sight it didn't look much - the hand-carved wooden haft was smooth and worn, and the flat grey metal of the blade looked thin and insubstantial, barely adequate for cutting fruit let alone flesh. But the metal was expertly tempered and formed, and the blade clearly lovingly honed by its owner; its point and edges keen and razor sharp, and its balance felt true enough to be used as a missile as well as a hand-weapon.
"This is certainly better than nothing. Isn't this your father's old knife?"
"Grandmother's, actually. He said I could borrow it."
Hayzel's eyebrows went up. Her husband had precious few mementoes of his mother, and he guarded them with absolute devotion. "You are honoured. He always used to grump if ever I touched it."
Hope grinned, pleased, tossing her hair proudly. "It is a good knife."
"Mmm. Your grandmother would have settled for nothing less." She reversed the knife so the blade rested flat along her forearm beneath her sleeve, wrist angled so that she could deliver either a thrusting blow or a slicing back-hand cut. It felt natural.
It felt good.
She looked up to find that Hope was studying her closely, that young-old expression on her face again. A bit scared? She certainly didn't look it. She looks like she's been used to this sort of thing all her life.
Goddess, is that what we taught her?
"What?"
"I was just wondering… when the last time was you had to use one."
"You think your old mum has forgotten?"
"Not at all. I just…" She trailed off awkwardly.
"Just what?"
"I know you don't like hurting things anymore."
"Actually, I never did like hurting anything full-stop. But that doesn't mean to say I won't hesitate to defend myself. Or anyone else, for that matter." She put her arm around Hope's shoulders. "Thanks for the sentiment, though. I won't let anyone hurt me. Or you."
"I won't even let them get close enough to try," Hope grinned, brandishing her bow.
"What if they're wearing armour?"
"There's always a chink in any armour."
"You have to find it first."
"I have lots of arrows."
"Mmm. But if it comes down to it… and we are out-matched… there's no shame in retreating. Discretion is the better part of valour."
Hope rolled her eyes. "First rule of guerrilla fighting. I know, I know… I'm not that impetuous. Even if it does run in our family."
Hayzel thought of some of the risks she had taken running around after Lavarre… to say nothing of those her husband had taken in the course of his life… and of those his mother had taken during her adventures. She grinned despite herself. "Mmm. Not so much run, as positively gallop! Come on."
---
It wasn't long before they encountered the source of the stink. Or at least, one cause of it.
The first sign was in the snow that covered the narrow winding track between the trees. It was churned up, as if by a struggle, and the white powder was stained with a thick purplish ichor that still steamed slightly in the cold. The further they warily advanced along the track, the larger the purple stains became.
And then they saw the body. Or at least, what remained of it.
It was only just recognisable. The thick muscular limbs were splayed out, the massive hairy paws clenched in agony; the barrel chest, which would have been as  thick and solid as a tree truck, had been gouged and split open with savage violence, the rib cage torn open to allow the attacker or attackers to dig and tear at the organs within. The bloody cavity was shockingly empty. Scraps of what had been inside littered the path in sticky clumps.
But that wasn't the worst of it. The worst was the head… the massive skull caved in and emptied too, clots of blood and brain matter splattered across the wispy strands of hair plastered across the dark mottled scalp, the primal jutting jaw stretched unnaturally wide, split open not just in the agony of death but in the violence of the blow that dislocated it from the skull. The thick tongue was poking up and lolling over the lower lip through a sticky pool of blood and shattered teeth like a drowned slug.
There were no eyes. They too appeared to have been gouged out.
"Aren't you glad we didn't have breakfast now?" murmured Hope weakly.
Hayzel was too busy controlling her gorge to offer a rebuke. She wiped a hand shakily across her brow and with great effort hunkered down to examine the corpse more closely, breathing carefully through the side of her mouth. The stench was appalling. Until that moment she'd thought the worse smell in the world was the inside of a Cyber-conversion factory, but this ran it close.
Hope hung back, eyes darting warily back and forth from the corpse to the shadows around them.
"What… what was it?"
Hayzel had to take another breath before she could answer. I'm really not used to this any longer.
"O-Ogron."
"What… what the hell happened to it?"
"Looks… looks like it picked a fight with something it shouldn't have done."
"Bear, maybe?"
"Even one of our biggest bull bears couldn't do this sort of damage."
Hope leaned forward to get a better look, and then just as quickly leaned back again, gulping.
"Aren't… aren't those bite wounds?"
"Yeah… but not by a bear."
"Eaten by something that disagreed with him, maybe."
Hayzel winced with revulsion. "Oh, Hope, please."
"Sorry. What do you think it was, then?"
"Something I'd rather not meet without a weapon in my hand. And a big weapon at that." Hayzel straightened shakily up. All she wanted to do now was throw up. And after that, grab her daughter and run as far away from this place as possible.
"It… it doesn't look armed. There's a holster pouch, but I can't see a gun."
"Maybe its attacker took it."
"If its attacker could do that with its bare hands, what would it need with a gun?"
Hayzel shot her daughter a look and was about to retort, but stopped herself. The girl was only saying what she'd been taught to say. What her father and I had taught her to say. Look at her, she's scared, but she'd not paralysed with shock and fear.
Like you are.
Hayzel gave herself a shake and backed away from the body a few steps. "Good point." She took a gulp of air. Focus. "Okay. Talk to me. What did we tell you about Ogrons?"
Her reply was clipped, cool and precise. "Lower anthropoid species, primitive culture, limited IQ, but capable of low cunning. Physically strong, easily led. Used mostly as heavy labour, or heavy muscle. Third-power military dictatorships often use them as auxiliary forces, occupation police or labor enforcement. Weak points are the base of the skull and the knee joints. Mother, are you all right?"
"Not just third-power. The Daleks used them on occasion, albeit for much the same purposes, when they were short on numbers or technology." She managed a wan smile. "I'm fine. It's just… been a while since I saw anything like this."
"Death is not unpleasant, only its form is," Hope observed.
"Your father would never make a career writing Christmas-cracker mottos."
"He knows some good jokes."
"Goddess knows I could do with a laugh now." She shot Hope a look. "That's not a request, by the way."
Hope's lips twitched. "I'm not that unfeeling." She gestured to the corpse with her bow. "A Dalek didn't do that, though."
"No, but another Ogron could."
"But cannibalism, though?"
"It's not unknown. They will eat anything. That's what makes them the ideal low-maintenance workers."
"Do you reckon this could be a Dalek work gang gone rogue?"
"Rogue? More like rabid. If a Dalek were in charge, it certainly wouldn't let them descend to anything like that."
"Unless it dumped them on us. You know, like on good old 21st century Earth when leaving an unwanted pet in a lay-by."
"Well, that's a lot of trouble to go to. Too much trouble for a Dalek, certainly. They would simply exterminate them."
"So they landed themselves?"
"Ogrons crew ships, they seldom operate them by themselves."
"Maybe this lot do." Her eyes roved their surroundings. "But let's find that out after we're somewhere a little safer."
"Good thinking. We have been standing here too long." They scooted back off the trail and into the cover of the trees a few yards, pausing to take stock of their surroundings. Hayzel studied her daughter closely in the dim light. Was it her imagination, or was it getting darker?
"Are you all right?"
Hope glanced at her mother and smiled convincingly. "I'm okay, really, mother. Especially as I've got you to look after me."
"Heh. You're the one with the bow." Hayzel glanced up briefly at the scraps of sky. No, it was getting darker. Was another storm about to break?
"You're armed with something better."
"What? Your dad's knife?"
"No," she smiled. "Knowledge."
"Is that another of your father's pearls of wisdom?"
"Something like – LOOK OUT!"
Hope shoved her mother violently to one side just in time as something huge and bulky dropped from the branches above and landed with ungainly grace on the very ground they'd only just been occupying. With an ear-splitting berserker shriek it swung its mighty arms around it in a clutching motion. Hope's intervention saved them both from this deadly embrace, though they ended up sprawling in the snow at the creature's feet.
The pale light reflected wetly off the damp purplish-red stains that slathered the brutal simian face and the front of its tattered leather jerkin, and the burning crimson in the pupils of the bulging eyes beneath its heavy, monolithic brow; insane eyes. Killer's eyes. It was an Ogron, but unlike any Ogron Hayzel had seen before – or ever hoped to see again.
Hayzel recovered quicker than her daughter; she scrambled to her feet as the creature shambled towards her, clutching its shaggy blood-stained for her throat. Instinct triggered and she executed a text-book roundhouse kick to the Ogron's jaw. The head rocked to one side but it barely slowed the creature down; she might just as well have been kicking a brick wall.
Judging from the bolt of pain that shot through her ankle and along her leg it felt like she had just done that.
She staggered back in agony, mind and body reeling. Weak points, weak points, you stupid woman!
The Ogron bellowed in savage triumph, as if sensing her weakness, and lunged towards her.
"Mother!"
The Ogron snapped round at the sound of her daughter's cry and took the full flight of an arrow into the side of its face, through one cheek and out the other. It made a hideous gurgling, rattling sound and clutched reflexively at the missile, tearing it away and taking most of its cheeks with it. It swung round, seeming obliviously to the injury and the blood pouring from its ruined jaws, and hurled itself at the girl who was frantically trying to string another arrow. With a shriek she lurched backwards, lost her footing on the uneven ground and went sprawling on her back. The Ogron loomed over her, shredded mouth open in a primal roar of victory.
Hayzel appeared to be watching this all in a kind of dreadful slow motion, dazed by the sudden ferocity of the attack and the pain in her ankle. Something sharp nicking at her wrist brought everything back into fast perspective again as she glanced down and saw her knife digging into her skin, blood trickling down her fingers. With a thin cry she raised the weapon above her head and hurtled forward, ignoring the pain in her ankle, eyes fixed on the back of the Ogron's neck.
One chance one chance one chance one –
"Get down!"
Something grasped tightly at the back of her cloak and yanked her backwards and suddenly she was on her back staring up at the sky. Someone was bounding past her, and then there was a percussive, rippling electronic crackle and the forest lit up with a sudden white flash. She sat up just in time to witness a vivid blue glow surrounding the Ogron, transfixing it in place. It began to shriek, and as it shrieked, the tone went up higher and higher in pitch as the blue glow began to shrink and compress…
And the Ogron began to shrink and compress with it.
In seconds the Ogron had been reduced to little more than a tiny twisted shape on the forest floor no bigger than a child's doll.
Hayzel stared at this for a long, horrified moment.
"Oh no," she whispered.
"Mother? Mother!"
Hope was already scrambling to her feet, clutching her bow to her, staring wide-eyed at something… someone standing beside her. Painfully Hayzel picked herself and lurched to her daughter's side, clutching at her for support, and turned to stare back too.
A cowled figure, muffled in a heavy cloak, was standing over the motionless shrunken shape, head bowed and cocked to one side as if contemplating its handywork. Its left arm remained hidden beneath the cloak; in its black-gloved right hand it held a slender black torch-like implement with a bulbous head. The figure wasn't pointing the device at them, but it wasn't exactly pointing it away from them either.
Hope had already begun to string another arrow but Hayzel stopped her urgently.
"Don't," she whispered.
"Very sensible," the hooded figured drawled without looking up. "Having just gone to the considerable trouble of saving your lives, I would appreciate some token of gratitude beyond being used for target practice."
It spoke with a man's voice, rich and silky but hard and sharp, like a stiletto in a velvet scabbard; a voice of command, used to being heard, and obeyed.
A voice Hayzel recognised. As much as she recognised the weapon that had been used to kill the Ogron.
"We should say thank you, then," Hope replied warily.
"That would be polite."
"It would be nice to know who we were thanking, though."
The figure chuckled. "I think perhaps at least one of you knows who I am, judging from your reaction."
"I know who you are," Hayzel grated, and the cold harshness of her tone made her daughter glance at her in surprise. "What I would really like to know is what the hell you're doing here… and what you have to do with them." She jabbed a finger at the shape on the floor.
"That is quite a story, and one that does deserve some explanation. But first, as you seem unwilling to do the honours, allow me to introduce myself to your… daughter?"
He swept back his hood, revealing a dark, distinctive, face with a wide, sly grin that was just the wrong side of puckish. He had a luxurious, neatly-trimmed Van Dyke beard, swept-back black hair greying at the temples, a broad, high forehead and the most deep-set, burning brown-orange eyes Hope had ever seen. The kind of eyes you couldn't look at for very long, because she felt instinctively that to be held in that gaze would invite a fate worse than being held in the embrace of that feral Ogron.
First performing a perfunctory but theatrical bow, he aimed his chin at them and declared grandly:
"You see, I am the Master…"
He paused briefly to kick contemptuously at the tiny crumpled shape at his feet.
"… And they won't obey me."