Inspired by Michael Haslett's article "Swap Shop Time Meddling: Better The Devil You Know?" in DWM 310 - which predicted that the twenty-first century would see a remake of

An Unearthly Child

starring Billie Piper four years before RTD did just that - here are a series of vignettes from Doctor Who stories made in different eras, following in the footsteps of The Nestene Incursion...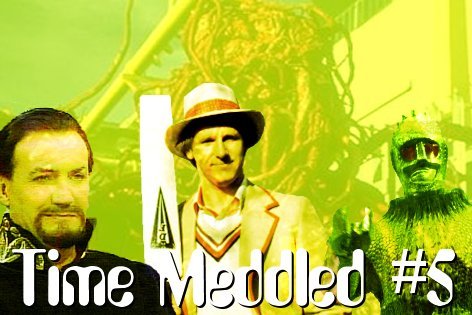 Lakertya
Tegan shook her head miserably as they picked their way across the wasteland to the Master's domain. "I dunno, Doctor. What was with that projection of Nyssa? Why not just let her go?" She swallowed nervously. "You don't think he's killed her, do you?"
The Doctor's new face was set in a grave expression. "Brave heart, Tegan. Possibly he's keeping her as a hostage, trying to keep us away from his citadel until he's finished."
"Which is why we're headed there now?"
The Time Lord smiled and playfully punched her shoulder. "Exactly! The Master has a countdown to follow and he intends to meet it without any setback or delays. If we delay him past that precise time, his whole scheme will unravel."
"But we don't know what his scheme even is?"
"No," the Doctor conceded. "Something involving block transfer computations - and something in that sealed chamber of his." He delved into his jacket and took out a copper coin. "Right, who gets to start the diversionary tactics? Heads or tails?"
"I'll do it, Doc," said Tegan wearily. "You just get in there and rescue Adric and Nyssa."
The Doctor nodded, making sure not to promise anything. He still wasn't fully recovered from his regeneration, and even the brief break he recieved as Tegan sprinted for the entrance to the citadel was gratefully-recieved. The air hostess turned on her heel and raced at righ angles from the domain. The shaggy Tetrap roared and charged off through the dust after her, leaving the main archway completely unguarded.
The Doctor, one hand keeping his hat down, jogged across the plateau and across the drawbridge.
Tetraps emerged from the shadows on all sides, surrounding him.
"Ah," said the Doctor, dry-mouthed. "I suppose you could only fall for that bluff so often..."
"Indeed," rumbled Urak. "We have been expecting you... Doctor!"
The bat creature lunged forward and sank his fangs into the Time Lord's unprotected neck.

***
 
The control area was throbbing into life once more now the micro-thermistor was replaced in the systems. The Master circled the control console checking displays. "The increase in brain activity is not enough on its own - it seems the Doctor must play his part after all." He looked up at his captives. "Prepare the last cabinet for occupation."
"Why bother?" Nyssa sneered. "You haven't caught him - you don't even know where he is!"
The Master's eyes glittered in his unnaturally pale face. "I need do neither, dear Nyssa. The fool is already coming to sacrifice himself on the altar of my design."
"You've underestimated him before," Adric warned, but his shoulders were still slumped in defeat.
The Master smiled and shook his head. "A mistake I have gone to great pains to rectify," he purred and nodded to the outer hall.
Urak and his fellow Tetraps lumbered in, holding the lifeless body of the Doctor between them.
"Connect him to main input!" the Master snapped and turned to check more displays.
The Tetraps lay the Doctor onto the bed and attached the wires to his forehead.
"There must be some way to sabotage it," Nyssa hissed to Adric.
"Not without killing everyone linked to the system," Adric whispered back.
"We must do something!"
"Nyssa, don't be silly. One word from the Master and the Tetraps will tear us apart - they don't need an excuse!" Adric went to check the controls. "It doesn't matter how stubborn we act, nothing can help the Doctor now. We just have to cooperate..."
"With what?" Nyssa cried. "What's going on here?"
The Master laughed at her. "The Doctor is adding his contribution to my creation. Would you care you see what it is?"
The rear wall brightened, turning transparent as though frost was melting off the window to reveal an obscene sight: a pitch black void crisscrossed with jagged lines of metal, some thin as wire, other as thick as tree trunks. Pierced, skewered and woven through these filaments was a gigantic wrinkled mass of flesh resembling a gigantic brain scooped out of its skull and pulsing from within with a purple light.
"A cerebral mass," breathed Nyssa, stunned. "An artificial organic computer fed with twelve living consciousneses..."
"Twelve geniuses from across the known universe," crooned the Master, nodding. "The minds that will create and destroy block transfer computations as I see fit! Logopolis is destroyed, but its powers remain waiting to be put to more creative use! And now, the Doctor himself will hand me control over all that is and was and ever can be. I trust," he added in a reproachful voice, "that unstinting confidence in the Doctor is not diminished by this betrayal of everything he holds dear? Adric - activate main input."
"No, Adric!" Nyssa cried. "Don't!"
"I know what I'm doing, Nyssa," replied Adric calmly, then slammed down the activator lever.
The Doctor jolted and twitched, as if recieving electric shocks. The brain convulsed in sympathy.
There was a rising note of power, drowned out by the Master's uncontrollable, triumphant laughter...